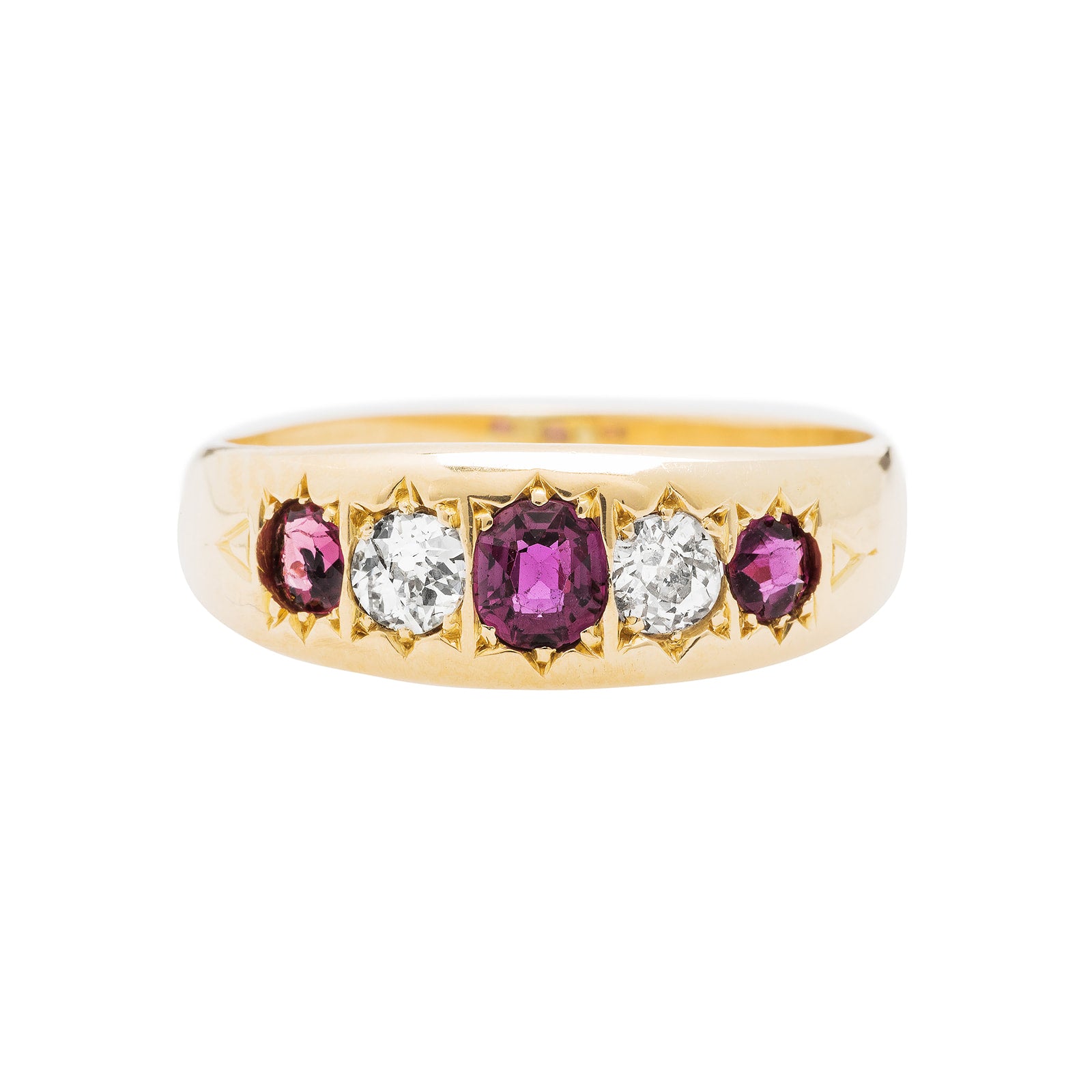 Sheffield Gardens
Sheffield Gardens is a superb and authentic antique Victorian era (circa 1880) 18k yellow gold diamond and ruby engagement ring stamped with English hallmarks stating the ring was made in Sheffield, England. The ring features three antique Cushion Cut natural rubies totaling approximately 0.70ct in combined weight alternating with two Old Mine Cut diamonds totaling 0.30ct in combined weight. The natural slightly purplish-red rubies pair well with delightfully sparkling diamonds!
Originally worn as a gent's ring, the size 9.5 ring can be sized down to fit either a lady or gentleman!
stone carat
0.70ct & 0.30ct
The Victorian Period was named for Queen Victoria, who inherited the throne of England in 1837 when she was only 18 years old. Victoria was young, beautiful, and loved immensely by her subjects. Her tastes in fashion and jewelry were highly regarded and inspired the Victorian jewelry trends of the time. Queen Victoria was married in 1840, and she wore a snake motif ring (a symbol of eternal love at the time) set with her birthstone, a brilliant green emerald, as her engagement ring. In the Victorian era, it was very common for birthstones to be used instead of diamonds for engagement rings. After Victoria's beloved Albert passed away in 1861, the queen went into the customary mourning period for 18 months, which inspired the gold lockets and black jet pieces commonly seen in this period.
free U.S. shipping
free returns & exchanges
free ring sizing with purchase